History of Colombo Colts Cricket club
Wilfred van Twest was elected first President of the Club, and Horace de Kretser its first Hony. Secretary.  A.W. Lorenz Andree (1973) points out that Van Test was an extrovert. He says that he "was known to clown on the field when playing cricket, and thus amused the spectators ad lib with his acrobatic antics, comic stances and funny gesticulations. In later life he became a well known preacher, and for obvious reasons, deservedly won the sobriquet of "Vicar of Wakefield"." Horace de Kretser was the third of four brothers who were all prime movers in the enterprise. Charles, Edward and Edgar were the other brothers.  Wilfred van Twest captained the Colts from 1873 to 1885.
Interestingly, Charles de Kretser, the eldest of the brothers was considered to be the champion under arm fast bowler of his day. To quote Foenander (1941: 8) –
"He was a terror on the old time bumpy pitches; and if he failed to hit the sticks, he would bruise the batsman on his shins or knuckles. Wearing his black bowler and with a quizzical smile on his face, he was one of the most interesting personalities of his time, and like a figure out of one of Charles Dicken's novels. Fielding at long stop to him was Reggie Garvin, who in his old age used to take pride in displaying the scars on his shins, bearing evidence of Charlie de Kretser's catapult deliveries"
The overarm era commenced in 1864 but continued well into the overarm era. So it is possible that in the early Colts teams there were bowlers of both styles.
Counted amongst the original members were Wilfred's brother Justin, Harry Dabrera, Oliver Raffel, Gerald van Houten, A. B. Claessen, Vincent Vandort, F. J. Lemphers, Edward Ohlmus, J. H. Franciscus, Walter and Reggie Garvin.
Oliver Raffel is likely to be the O.C. Raffel, who with his long beard appears in two photographs taken at Raquet Court around 1900. A.B. Claessen appears in the 1924 group photograph at HavelockPark and is likely to be the ancestor of the Claessen brothers who were prominent in Wesley cricket in the early fifties and also turned out for the Colts.
Edward Ohlmus was considered to be a keen student of the game. To quote Foenander (1941: 14)
"Dr E.H. ("Eddy") Ohlmus was one of the keenest cricketers of his time. He was not only a capable batsman and reliable wicket-keeper, but he was a sound student of the game and a successful skipper. While studying medicine at EdinburghUniversity he batted with much success for the University as well as for Carlton Club. Neat and natty in style, he excelled as a late and square cutter, and was a consistent scorer for the Colts in the days when a score of 25 was rarer than centuries today."
Finally, the Garvin brothers, Walter and Reggie, were original members.  The first president of the reorganised Colts in 1886 was one Dr. T.F. Garvin and this is likely to be the Reggie Garvin who fielded at long stop to Charlie de Kretser, with disastrous results.
Donovan Andree Trophy winners, 1972-73
Seated (L to R): M. Chanmugan (coach), B. Seneviratne, Darrel D'Silva, Lester Pereira, E.B. Nathanielsz (President), Tissa Jayaweera (captain), Gary de Silva, Shanti Jayaweera, E.J. Melder (secretary)
Standing (L to R): Anil Mudalige, Willie Caldera, Russell Rajaratnam, Beverley Paul, Trevor Rajaratnam, Larry Paulusz, C. Ramanathan, Nalin Perera
(Picture courtesy of the 100th anniversary souvenir)
Donovan Andree Trophy winners, 1974-75
Standing (L to R): Hemachandra Ranasinghe, Lalith Jayasyundera, Gerald Solomons, Trevor Rajaratnam, Beverley Paul, Russell Rajaratnam, Ranjan de Silva, Sunil Fernando, Sarath Weerakoon
Seated (L to R): Archibald Perera (Cricket Secretary), Shanti Jayaweera, Brian de Silva, Lakshman Doolwela (Captain), E.B. Nathanielsz (President), Richard Kelaart, Gary de Silva, Nalin Perera, Michael Chanmugam (coach)
Absent: Lester Pereira
(Picture courtesy of the Colts cricket club)
Donovan Andree Trophy winners, 1971-72
Standing: Lester Perera, Roy Dias, M. Balasubramaniam, Wendell Kelaart, Russell Rajaratnam, Beverley Paul, Rauf Azzam, Richard Kelaart, Aubrey Melder, J. Satchithanandan, Laxshman Doolwela, Vas Gunawardena, Nalin Perera
Seated: Gary de Silva, Darrell D'Silva, Tissa Jayaweera, Tita Nathanielsz (President), Ranjit Samerasekera (captain), Michael Chanmungam (coach), Richard Alles, Neville Fernando, Eardley Lieversz
Absent: Johnny Martin?
(Picture courtesy of Eardley Lieversz)
Part of membership and staff, July 1973
(Picture courtesy of the centenary souvenir)
Seated (L to R): J.R. Murray, A.C. Amath, V.S. de Kretser, Dr. S.P. Joseph, Dr. Allan Raffel, A.T. Pollocks, C.W. Van Geyzel, S.P. Foenander, B. De Kretser
Standing (First Row): A.E. Assauw, A.M. Caldera, D.W.L. Lieversz, L.V. Jayaweera, E.H. Joseph, L.A. Joseph, S. Oorloff
Standing (2nd Row): H.L. de Kretser, A. Meadows, W. Aiyadurai, E.G.L. Lieversz, P.A Swan, F. Melder, D.V.L. de Silva
(Picture courtesy of Foenander 1941)
Colts Club members at the opening of the new pavilion in Havelock Park, 1924
Seated left to right: W.E. LaBrooy, W.E. Jansz, H.O.W. Mayo, Dr. A. Raffel, J.C. Ebert, Mr. F. Dornhorst, K.C., President, C. J. A. Marshall, O.C. Raffel, O. de Kretser, C. Foenander, A.B. Claessen
(Picture courtesy of Foenander 1941)
"Old crocks" of the Colts C.C. at the opening of the Khan pavilion at the Racquet Court in 1905.
Dr. A. Raffel in the middle with J.C. Ebert on his right and O.C. Raffel, W. de Kretser and M. Thomasz on his left.
(Note the ladies in the pavilion wearing bonnets and long dresses)
(Picture courtesy of Foenander 1941)
Brian Silva leads the side out in a friendly game, circa 1971
(L to R): Laxshman Doolwela, Asitha Jayaweera, Polycarp Wijesekera, Neville Fernando, Nalin Silva, Gary de Silva, Brian Silva, J.D. Wilson, J. Satchithanandan, Sunil Fernando and Eardley Lieversz

(Picture courtesy of Eardley Lieversz)
Colombo Colts Cricket Club Tour of India 1957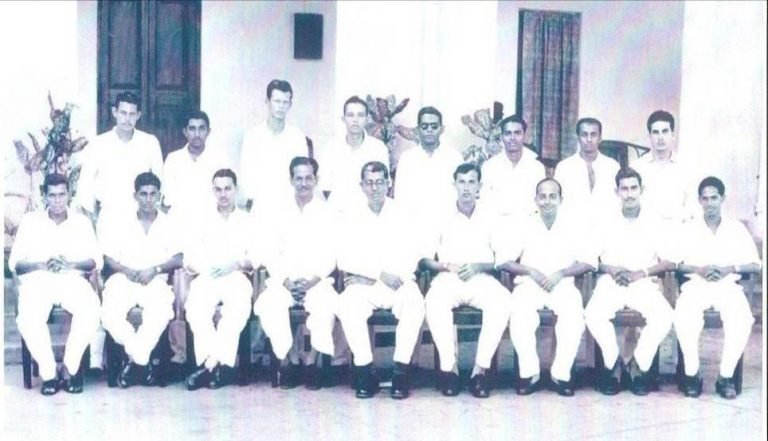 Rear (L to R): C. Brohier, D. Amarasinghe, W. De Kretser, L. Ebert, T. De Silva, R. de Silva, G. Jayatunge, B. van Geyzel
Front (L to R): H. Gunatileke, H. Fernando, M. Pereira, E.B.Nathanielsz (Manager), V. Pattabhiraman (President, Madras Cricket Club), N. De La Harpe (captain), T. Vanderwert (Vice Captain), A. Fuard, M. Shararawadie

(Picture courtesy of Laurie and Gail Robson)
Colts versus the Maharajah of Puddukottai's XI
The photograph on the following page is probably the final night of the tour when the Madras Cricket Association held a dinner in honour of the visiting team. It is the companion piece to photograph which appears at the beginning of the description of the tour and which held pride of place in Tuti Vanderwert's bedroom wall, next to his wedding photograph. The two photographs are very likely to have taken place at the same venue, even on the same day.

(Picture courtesy of Heather Pereira)
Dinner held by the Madras State Cricket Association
Seated on the extreme right is Ram Singh, a former Indian test player. According to Wikipedia

(Picture courtesy of Heather Pereira)
Farewell to Tuti Vanderwert at the Colts Cricket Pavilion 1963
(Picture courtesy of Eardley Lieversz)
On board a ship to Madras
Back L to R: W. de Kretser, N. de la Harpe, H. Gunatilleke, M. Shamarwadie, M. Fernando
Front L to R: C. Brohier, T de Silva, M. Pereira, R de Silva, G. Jayatunga
(Picture courtesy of Warwick de Kretser)
On board a ship to Madras
Back: C. Brohier, Lennie Vaughan, Norman de La Harpe
Front: G. Jayatunga, T. Vanderwert, R. de Silva, Mark Pereira, M. Shaharwadie, T. de Silva, Jean Nathanielsz and Tita Nathanielsz

(Picture courtesy of Heather Pereira)
Bangalore prior to the game against the Mysore State Association XI
Above photograph was taken in Bangalore prior to the game against the Mysore State Association XI. It appeared in a local newspaper of 21st August and was reproduced in the Times of Ceylon of 26th August 1957
Standing L to R: D. Amerasinghe, Mark Pereira, T. de Silva, E.B. Nathanielsz, Norman de la Harpe, Warwick de Kretser, Lorenz Ebert, Abu Fuard, Carlyle Brohier
Standing L to R: M. Shaharwadie, Brian Van Geyzel, Herman Fernando, George Jayatunga, Trutie Vanderwert, R. de Silva

(Picture courtesy of Warwick de Kretser)